ATHENS, Texas – Alliance RV and the National RV Training Academy (NRVTA) have strengthened their partnership by developing an educational platform exclusively for Alliance owners, the groups announced last week at a rally in Elkhart, Ind.
Developed as part of Alliance RV's owner empowerment initiative, NRVTA created an online training program to help Alliance owners better understand how to use their RVs and onboard systems. The program includes a series of videos describing basic RV systems as well as providing detailed walk-thru orientations for Alliance RV models.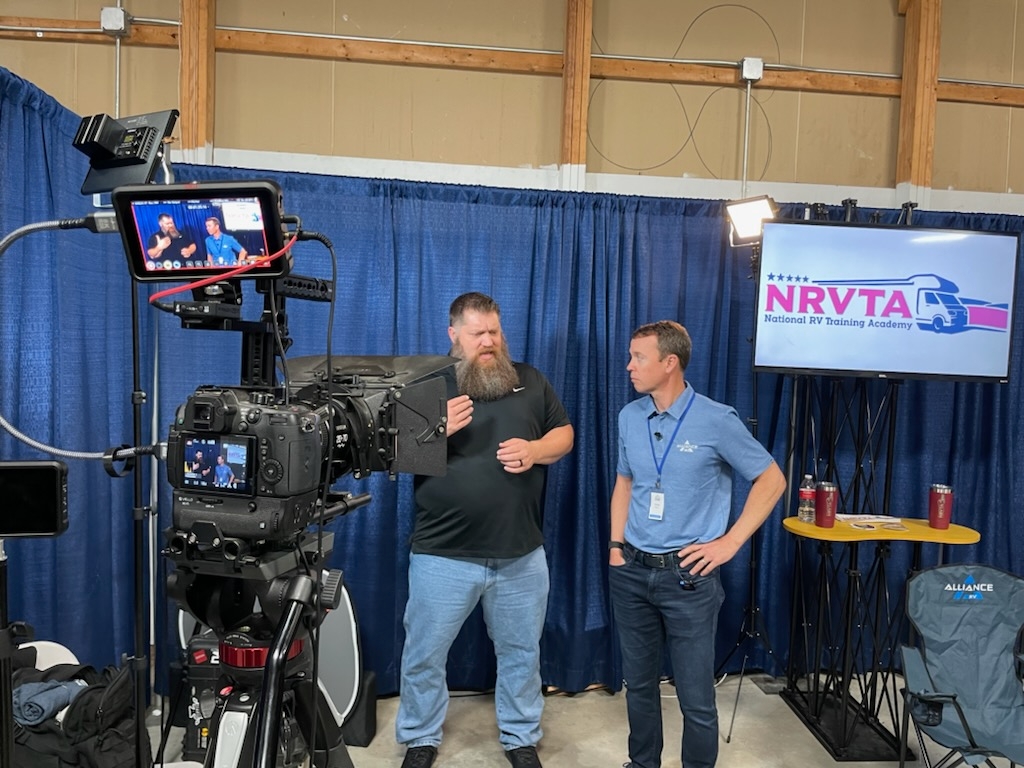 After buying an RV, new owners can register to access the free training through the Alliance Academy from the company's primary website. People who purchase used Alliance RVs can also register for the program by submitting details to the company, such as the vehicle identification number and new owner's contact information.
"Coaches can often be viewed as complex machines, especially by people new to the RV lifestyle. Although they get a walk-through orientation when picking up a new RV, many times owners are so excited about the purchase that they don't remember everything they were shown at the dealership," said Rob Boyer, who has been leading Alliance RV's owner empowerment efforts.
"Then, when they take their first few trips, new owners struggle to remember everything they were taught," he added. "This new platform can alleviate stress by jogging their memories to remind them where various switches are located. We also demonstrate the proper procedures for connecting an RV to campsite utilities, disconnecting them before leaving and preparing the unit for travel."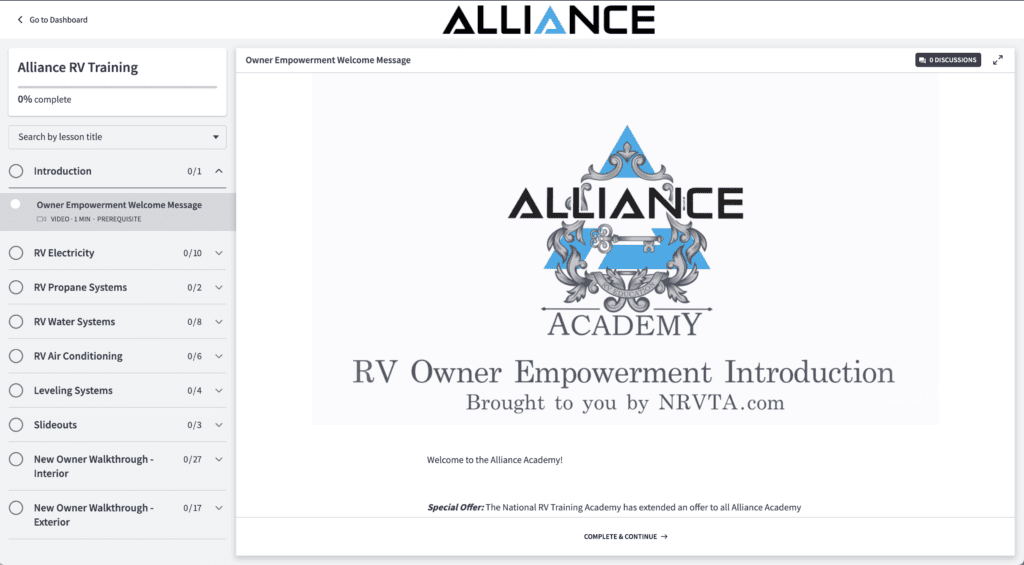 The platform currently includes five hours of video content specific to Alliance RVs; however, it will be expanded over time. The videos were produced by NRVTA staff and feature instruction by Todd Henson, the director of education. Garrett Syfrett, NRVTA's video production manager, filmed and edited the segments.
"I envision this will be a really valuable resource for Alliance RV owners," said Henson. "First, I teach them about the basic components and systems onboard their RVs, such as setting the thermostat and making sense of water and electrical bays. Then, I walk them through some easy-to-understand lessons about plumbing, electrical and propane systems as well as how levelers and slideouts work.
"We created the videos in shorter segments so people can watch something pertaining to the specific problem they are having or the system they are trying to use," he added. "Our goal is to help them resolve issues quickly so owners and their families can get back to enjoying their vacations."
The new platform was rolled out at the Alliance RV National Rally, which took place at the Elkhart Fairgrounds May 25-27. A total of 220 coaches were involved in the gathering, which combined educational sessions with leisure activities as well as a factory tour, Boyer explained.
Owners can access the Alliance Academy by visiting www.alliancerv.com/alliance-academy. For more information about Alliance Academy, call (574) 218-7165 or email info@alliancerv.com.
For information about NRVTA's educational programs, or to become an RV technician or inspector, visit www.nrvta.com; email info@nrvta.com or call (903) 386-0444 to speak with a student advisor.