ATHENS, Texas – The National RV Inspectors Association (NRVIA) today announced it awarded its first NRVIA Master Certified RV Inspector credential to an Illinois man with five years of experience evaluating recreation vehicles.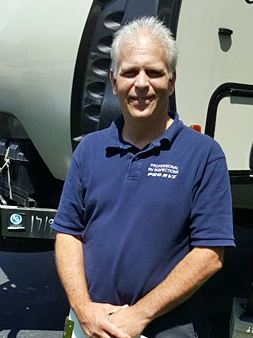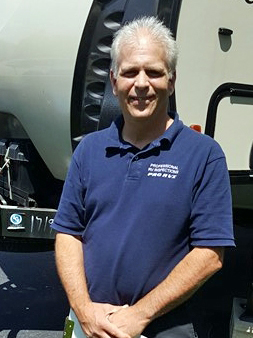 Rob Wilhelm, owner of Professional RV Inspections in Algonquin, Ill., became the first person to achieve the status of NRVIA Master Certified RV Inspector in the association's seven-year history.
The association introduced the new certification designation in January. It is designed to recognize NRVIA members who have excelled not only in their own inspection businesses, but also for their work within the RV industry, said Stephanie Henson, NRVIA director of administration.
"Master certified RV inspectors have paved the way for new members and less experienced members to jump into a growing new industry of mobile inspection experts within the RV Industry," she added. "This is an award of merit conferred upon active inspectors. It is not something bestowed lightly. Inspectors must earn this credential."
In order to be considered for the honor, applicants must meet a specific list of requirements, which include:
Operating an active and insured inspection business for at least two consecutive years.
Completion of 50 verifiable advanced RV inspections. Evaluations performed for warranty or repair verification, life-safety only or for the Federal Emergency Management Agency do not count in that total.
Possess active credentials as a registered or certified RV technician from a sanctioned training school.
At least 10 verifiable reviews from clients with a satisfaction rating of 80% or higher. The reviews must be listed on a third-party platform such as Google, Yelp, Facebook Business Page, HomeGauge, etc.
Inspector must have either published an article in an industry publication relevant to RV inspections or RV systems training, or presented a similar topic at an industry rally, conference or expo.
Maintain a professional business website promoting RV inspection services.
Applications for master certification are reviewed quarterly by a credentialling committee comprised of Henson, Wilhelm and five other NRVIA-selected inspectors, including:
Bryan Carbonnell, of Tech-Reational Vehicle Services in Orangeville, Ontario.
Ken & Renee Wynsma, with Wynsma Services in Bradenton, Fla.
Carol Jackson, of RV Inspection Specialists in Lititz, Pa.
Al Pearce from A & L RV Inspection in Orlando, Fla.
Howard Jaros, owner of HMRVI Corporation and an instructor for the National RV Training Academy in Athens, Texas.
Although Wilhelm also serves on that committee, he did not participate in the deliberation or review of his application, Henson stressed.
People who achieve the status of an NRVIA Master Certified Inspector cannot rest on their laurels, she explained. To maintain the credential, the inspectors must continue to perform advanced inspections and provide data related to those evaluations to NRVIA. They must also maintain continuing education requirements and meet all requirements to retain the title, including publishing articles or conducting seminars.
"This designation is given to members who have proven their dedication to the RV Inspection industry and who will continue to serve the RV community for many years to come," said Henson.
For Wilhelm, performing RV inspections was a second career. He previously worked as a manager for a demolition and environmental remediation company that removed asbestos, mold and other hazardous materials.
"I owned an RV for more than 20 years and always considered myself handy," he explained. "Still, I wanted to learn more about how my own RV worked. So, I took classes and learned about the RV inspection business while completing the training.
"The whole concept of prepurchased RV inspections intrigued me. The more I investigated the opportunity, the more I saw there was a tremendous need for this service," said Wilhelm. "My business took off slowly at first, primarily because it was a new service and most RV buyers weren't aware that it was available to them. But, the number of inspections I completed doubled and tripled every year."
As a result, Wilhelm said his business has flourished over the past two years to the point he performed 90 advanced inspections in 2020 and he is on pace to exceed that figure this year. Not only does he serve clients throughout the greater Chicago metropolitan area, he also travels throughout the Midwest to complete inspections at private seller locations, RV dealerships and manufacturing facilities.
Wilhelm believes the title of NRVIA Master Certified RV Inspector will be a big boost to his business by giving clients even more confidence in his ability to properly evaluate the condition of an RV they are thinking of buying.
For more information about Wilhelm's business, Professional RV Inspections, visit www.prorvi.com.
Inspectors do not offer advice as to whether an RV is a good deal or even worth the price being asked, Henson explained. Inspectors simply provide a detailed evaluation of the RV's condition and allow buyers to make an informed decision as to whether to proceed with the purchase, she added.
For more information about becoming an RV inspector or to find a trained and certified inspector, visit www.nrvta.com