ATHENS, Texas – A new classroom being built on the National RV Training Academy (NRVTA) campus will be dedicated to advanced RV inspection classes.
The 28-by-52-foot building was designed to create an open space with no interior walls to allow instructors to set up the room in any configuration. It has dedicated restrooms plus a small break area for coffee and a refrigerator. The classroom will accommodate 32 students per course.
"Generally, the classroom will be set up with 16 8-foot tables. Each table will be shared by two students who will also share a separate monitor tied to the instructor's computer," said Steve Anderson, NRVTA co-founder. "That will enable students to clearly see whatever the instructor is describing, even when he zooms in on a key feature."
Built at a cost of $150,000, the handicapped-accessible building will have a fiber-optic internet connection to ensure the fastest speed currently available, he added.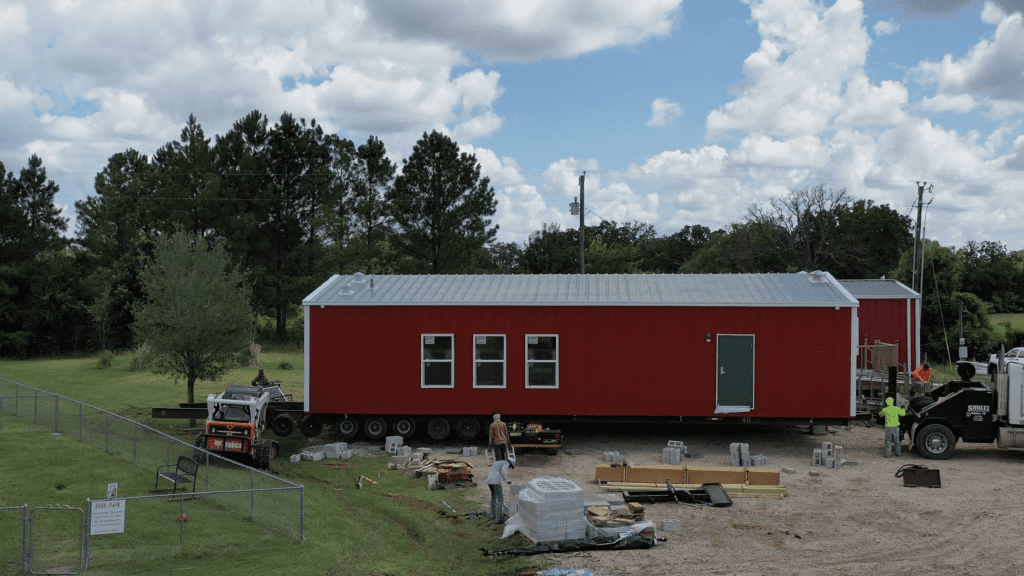 "A lot of the inspector training is software based, so we wanted to have a dedicated internet connection with very strong wifi available to each student," Anderson explained.
The modular building arrived on July 2 and will welcome its first group of students later this summer.
Students seeking certification as RV inspectors will spend the first week taking the NRVTA's RV Fundamentals class at the Big Red School House, where they learn about RV systems and complete hands-on labs to work with RV electrical, plumbing and propane systems, air conditioners and furnaces, refrigerators, water heaters and RV levelers.
The second and third weeks will be spent at the Tiny Red School House where students learn the principles of RV inspection, how to perform a top-to-bottom evaluation of an RV and compile the information into a multi-faceted report.
In the advanced RV inspector training course, students sharpen their evaluation skills, and learn methods and techniques to perform contracted inspections for state and federal agencies, such as the Federal Emergency Management Agency and Department of Homeland Security.
Currently, classes are being taught next door at the Little Red School House. When construction is complete, that building will be transformed into a high-tech audio and video studio for NRVTA to produce instructional training materials.
For more information about NRVTA as well as its courses and programs, visit www.nrvta.com, email [email protected] or call (903) 386-0444.