ATHENS, Texas – The National RV Training Academy (NRVTA) has worked to improve customer service in the RV industry by helping to train thousands of mobile RV service technicians and inspectors, the school reported today.
The Texas Workforce Commission requires NRVTA to submit an annual report regarding the success of its graduates. The report must show the percentage of students, both employed and self-employed, who completed an NRVTA training program and are using their skills within an industry-related career as well as their average starting pay.
"These are not income guarantees, nor are they suggestions as to what an NRVTA graduate should charge their customers," said Terry "Cooper" Cooper, president of NRVTA. "However, the figures do provide evidence of the success NRVTA graduates enjoy in their businesses and careers."
According to the 2022 annual report:
Of the students who completed advanced training to become an RV service technician, 73% are employed and making an average starting wage of $104.76 per hour.
Of the students who completed RV inspector training, 78% are employed and make an average starting wage of $104.35 an hour.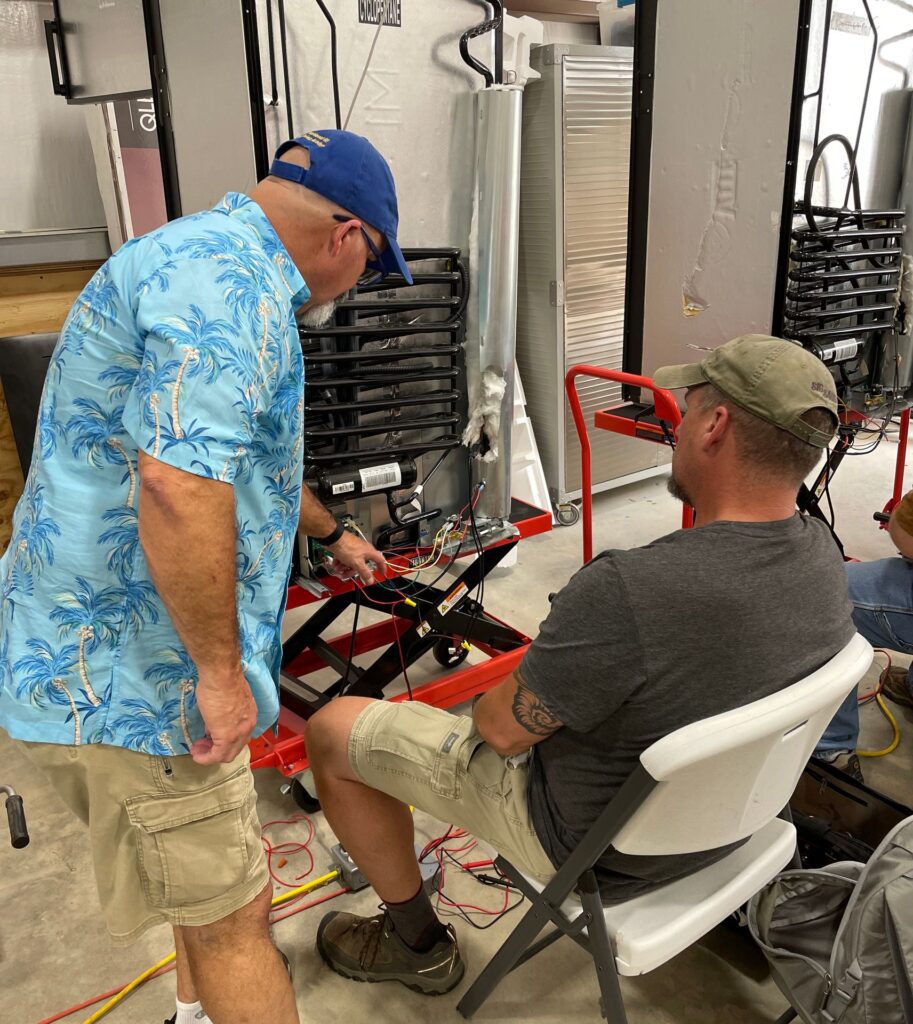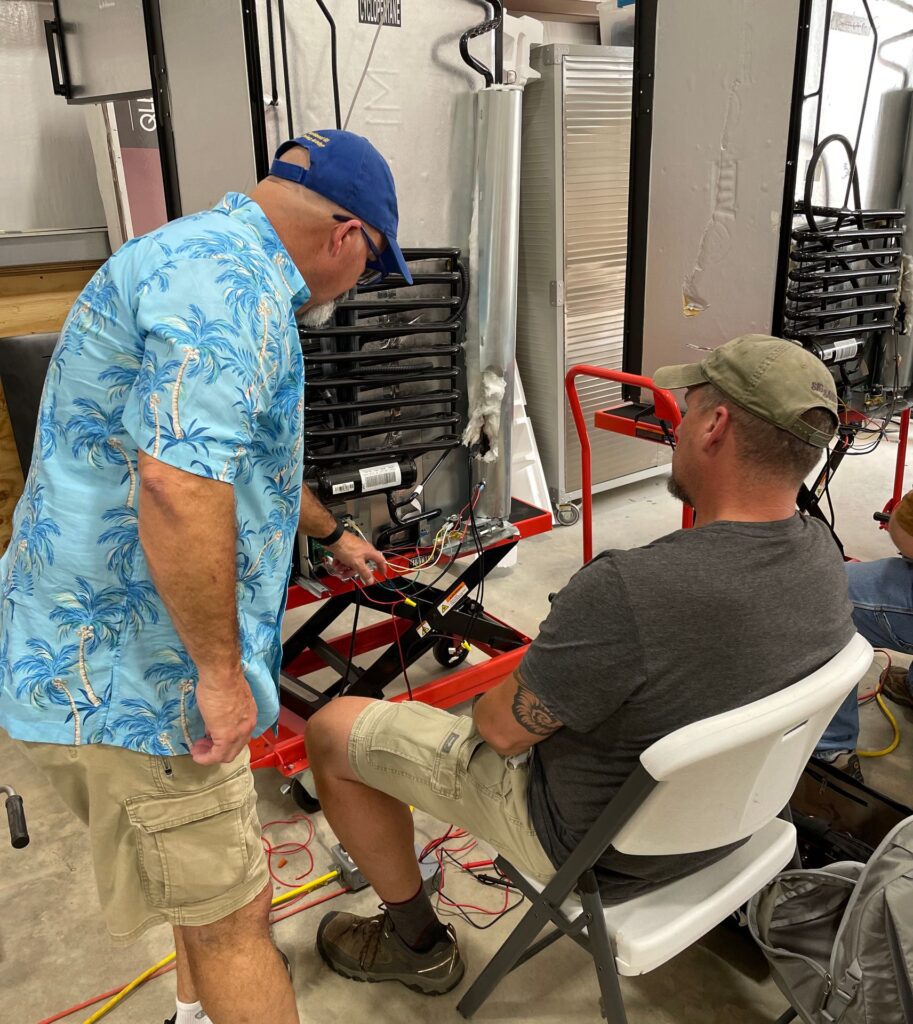 "These are statistics were collected from our program graduates who may be working for a dealership or in a business of their own," said Cooper. "The figures also include people who are in the process of starting a business and graduates who have not yet started employment in the RV industry."
Program overview
For RV inspectors, the three-week program includes a hands-on RV Fundamentals class, courses on the principles of RV inspections plus advanced training pertaining to skills, methods and evaluation techniques.
For RV technicians, the five-week course includes the RV Fundamentals class plus four advanced hands-on courses in RV air conditioners and heat pumps, exterior systems, absorption refrigerators, water heaters and furnaces. Students can opt to take two additional advanced classes in RV solar power and generators.
"Our unique blend of classroom instruction and hands-on labs prepares students to handle just about any type of repair they'll encounter," Cooper explained. "It may be more hands-on intensive than some other programs, but we want to springboard our graduates into successful businesses or careers."
A great time to start a business
"Many self-employed mobile service technicians are making more than $100,000 per year with the flexibility to set their own schedules and work with customers who value their skills and results," said Cooper. "The timing is ideal for these technicians to start businesses of their own.
"We've known for years that RV dealers are overwhelmed with requests for service and there's no end in sight," he added. "It can take four weeks to get a service appointment at some RV dealerships. That wait takes a big chunk out of the camping season. Fortunately, mobile service technicians have been able to alleviate some pressure on RV dealerships."
For the past five years, the RV industry has manufactured nearly 1,100 new RVs every day, according to the RV Industry Association. In addition, nearly 2,000 used RVs are sold every day, according to Statistical Surveys.
"That's 3,100 recreation vehicles daily that will need inspections and initial service to prepare them for sale or delivery as well as work done to correct problems discovered by new owners shortly after purchase," Cooper explained. "RV dealers are challenged to meet all that demand with the facilities they have in place. We'd like to help the RV industry by getting more qualified RV technicians into the field.
"Mobile RV technicians have come to the rescue by providing service at campgrounds, storage centers or wherever owners need help without having to unhook their RVs and drive them to a repair center," he added. "Business has been booming for many NRVTA graduates."
Relocating to North Carolina
Chris Travaglino, the owner of Travel Tech RV, relocated his business from southern Florida to Murphy, N.C., in 2021. Although he was very busy in Florida, he sees an even greater opportunity to triple his business in the new market within a few years while escaping the heat.
"There are 35 campgrounds within an hour of my location in North Carolina. We are in a popular tourist area only a few hours from Atlanta; Chattanooga and Knoxville, Tenn.; as well as Ashville and Greenville, N.C.," he explained.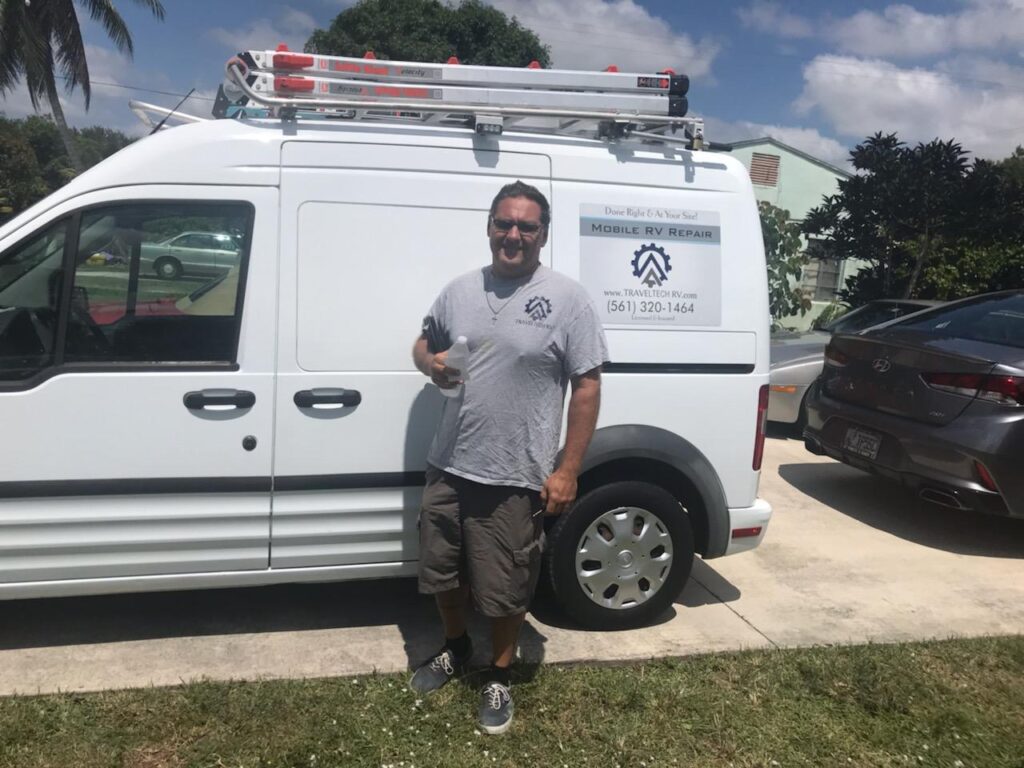 In Florida, finding business was as simple as putting up a sign and running a few Google ads. Travel Tech RV was generating significant income every year in Florida when his family opted to move north. Although there are more professional competitors in North Carolina, he said there is still plenty of work for everyone.
Professionalism makes a difference, Travaglino explained, noting that he has more than 100 five-star Google reviews. Many of his competitors in Florida had reputations for not returning calls or promising to order parts, but not following through to install them.
"If you manage it like a business, promote it like a business and follow through on what you say you're going to do, a mobile RV technician can make a very comfortable living," he said. "I had already owned several businesses in the past so I knew what it would take to get started. But, NRVTA does provide some business training in addition to technical instruction for people wanting to start businesses."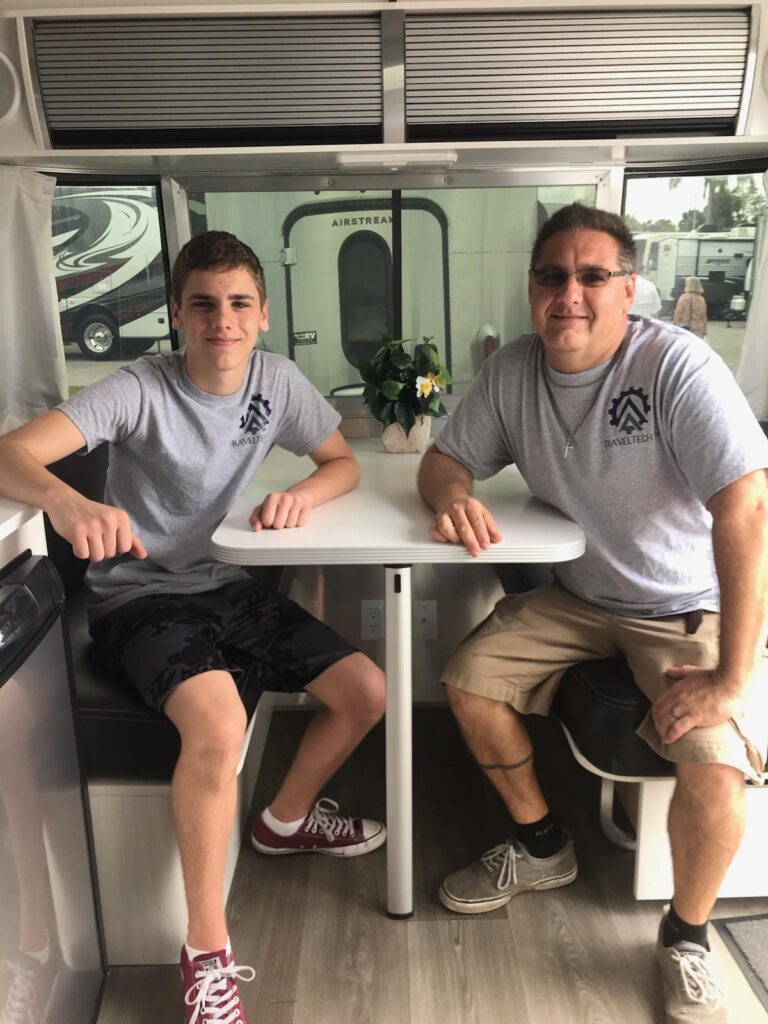 The Travaglinos bought a new home in North Carolina on 9 acres of property with a section facing a major highway. He is planning to open a repair shop as well, although the bulk of his business will still involve mobile repair. Having the shop will be helpful in completing major repairs, he explained.
Travaglino's work truck is already wrapped to promote his mobile repair services. Parking it near entrances of stores he's visiting helps bring in customers, he added. He also worked with a Google representative to fine-tune some ads, and that increased phone calls starting last August.
"About 30 percent of my business comes from people who just see my truck and make an appointment," said Travaglino.
For information about Travel Tech RV, visit www.traveltechrv.com or call (833) 434-9787.
Serving customers the first weekend
Steve Hurwitz, the owner of TekRV, graduated from NRVTA in July and set up his new business in Rockport, Texas.
He stayed at the NRVTA compound for three solid months and took every course the academy offers on his way to becoming a certified RV inspector and certified RV technician. Hurwitz also took advanced training in generators and RV solar power.
Hurwitz wanted to complete all the training at once so he would have the knowledge necessary to complete almost any job that came his way. It didn't take long to get started and see a return on investment of time and money.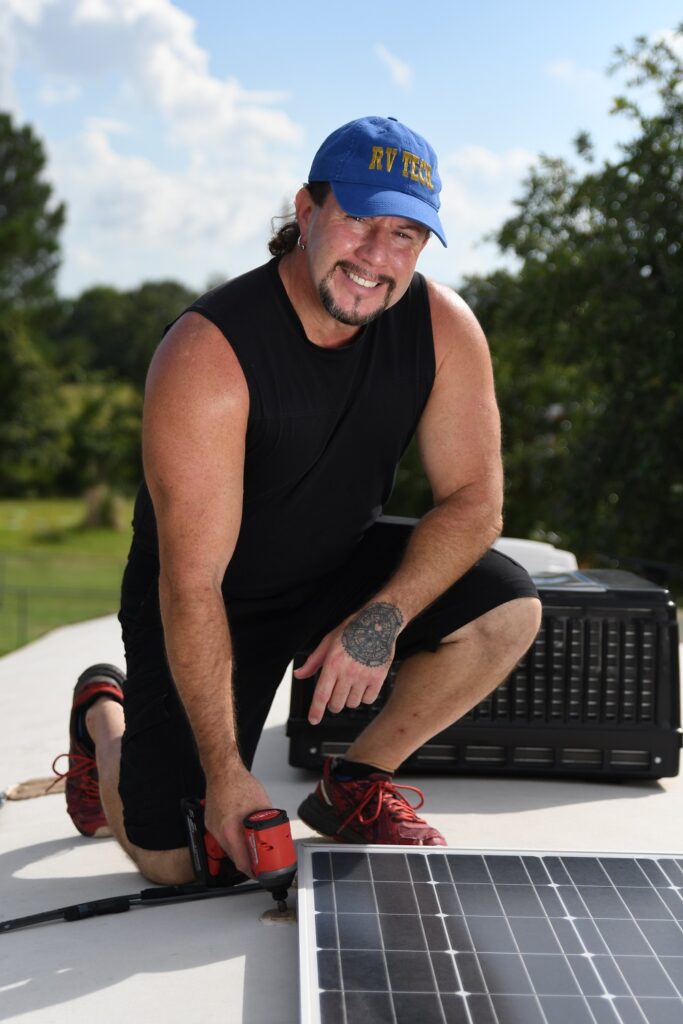 "I arrived in Rockport at 5 p.m. on a Friday and had my first job as an inspector at 7 a.m. the next day when I was hired to inspect a Class A diesel motorhome," he explained. "If you're going to dive into self-employment, you might as well dive into the deep end by doing the most extreme types of jobs."
Before Saturday came to an end, Hurwitz had been hired to repair an air conditioner and his business continues to grow.
The Phoenix native always wanted to live by the ocean, so when he researched potential markets to set up an RV services business and learned the Rockport market was a viable option, he jumped at the opportunity.
However, after working there a few months, he saw even more opportunity by relocating to the more lucrative Galveston area. Not only is the region a recreation destination as well, but it's close to Houston and the 4.1 million people who call that area home. There are also dozens of RV parks within a few hours of Galveston.
"Being a full time RVer myself, I understand the importance of major systems continuing to work properly, and I got into this business to help others enjoy a seamless RVing experience," Hurwitz explained. "I am helping people, and that's a great feeling. Having an air conditioner fail in the heat of summer, as an example, makes for a miserable situation. Getting that client back up and running quickly manifests happy smiles."
His first inspection customer arrived via the National RV Inspectors Association (NRVIA) website's inspector locator. His first repair job came as he was walking his dog through the RV park where he was living.
"A neighbor struck up a conversation and I learned she works at the Ron Hoover RV corporate office. The dealership is frequently looking for mobile RV technicians to offload service work," he explained. "This will likely be a consistent source for repair jobs in the years ahead.
"I also had signs made for my truck that almost always bring in new inquiries from prospective customers," said Hurwitz. "I made a good amount of revenue with my first inspection. It took eight hours to conduct the evaluation, and six hours to write and polish the report."
Since then, he found several jobs via NRVIA where RV buyers and sellers use a locator to find inspectors in their area.
"Many people still don't realize it's possible to get an RV inspected before making a buying decision. In reality, it is similar to getting a house inspection prior to a home purchase," said Hurwitz. "The repair service requires less marketing. I got a job by simply walking into Walmart wearing a hat with my business logo on it."
He sees plenty of opportunity for people to make money fixing and inspecting RVs almost anywhere they set up shop.
"Selecting this as a business venture is a no-brainer," said Hurwitz. "You'd have to try to fail in order to not succeed in this business."
For information about TekRV, visit www.tekrv.com or call (520) 979-8878.Support in the field
Graduating from NRVTA training programs is a worthwhile accomplishment, but graduates also need support in the field once they leave the academy and get jobs or start businesses. That's possible thanks to a partnership with two trade associations.
NRVIA certifies inspectors, while the RV Technician Association of America (RVTAA) tests technicians and provides professional certification for people who fix RVs. Both organizations support members with private groups, continuing education classes and other benefits.
Gilda Mitchell, the new director of membership is tasked with developing benefits and programs inspectors and technicians can use to build businesses or enjoy successful careers.
Perhaps the biggest benefit offered to date is the ability for members to be listed on special locator pages on either the NRVIA or RVTAA websites that enable consumers to search for and connect with trained professionals in their areas. Inspectors can be found at nrvia.org/locate, while mobile service technicians can be located at www.rvtaa.org/locate.
"NRVTA has set up so many technicians and inspectors for successful careers over the years, it's just natural that the academy partner with associations like NRVIA and RVTAA to develop an infrastructure to ensure their continued success after graduating," said Tony Flammia, NRVTA director of sales and marketing.
"Through classroom instruction and hands-on labs, NRVTA not only provides the technical skills students need to be effective in their work, but the school also provides resources to setup a small business and market themselves to prospective clients," he added.
For more information about becoming an RV inspector or RV technician, visit www.nrvta.com, email [email protected] or call (903) 386-0444. There are new RV Fundamentals classes starting every month.