ATHENS, Texas – The National RV Training Academy (NRVTA) moved all courses for RV inspectors into a new building last month.
The 28×52-foot building is wider than the previous facility, which enables 32 students to sit in rows of six in order to be closer to the instructor. Two students share an 8-foot table equipped with a 20-inch monitor to help them more easily view what instructor Howard Jaros is presenting in front.
"Students were telling us it was sometimes difficult for them to fully see what I was describing on the television up front," he explained. "Now they can view the big-screen TV as a reference, but watch a monitor right at their desks as I describe essential inspection elements and explain software used to complete evaluations."
The new building includes three restrooms and a kitchenette where snacks and beverages are available to students. It is also considerably closer to The Texan RV park which students use to conduct inspections during training.
"It is a more comfortable facility and a little quieter, too," said Jaros. "Having everyone in closer proximity to the front not only facilitates learning, but creates a more intimate setting for students to ask questions and communicate with each other."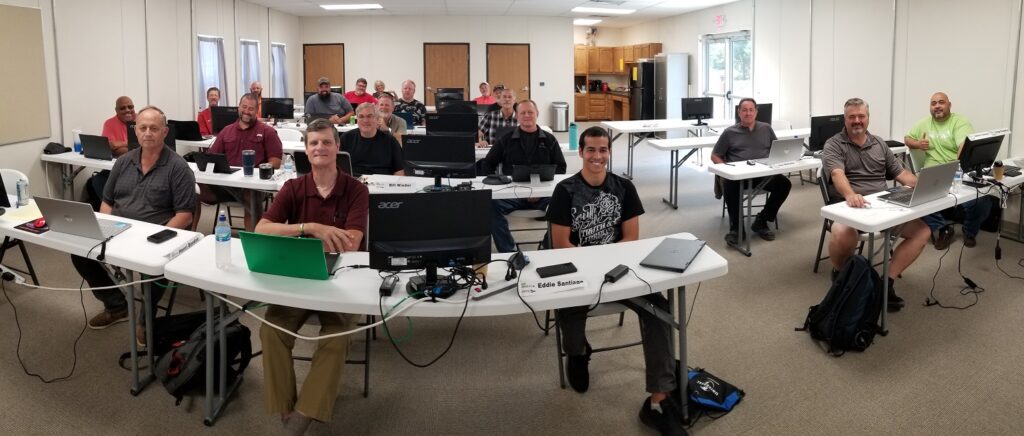 A total of 12 weeks of inspector courses was conducted in 2020, but climbed to 28 weeks this year, primarily because advanced courses are now two weeks long instead of one. All students must also complete an RV fundamentals course before starting inspection training.
A total of 145 students have been trained so far this year, which is down slightly from 2020, Jaros said, simply because the certification course shifted to two weeks.
"However, the extra week allows us to cover much more material so graduates leave better trained to conduct thorough evaluations," he added. "We also have more time to discuss fluid analysis and how to prepare a truly professional, easy-to-read report."
With five additional days of instruction, inspectors learn how to set up their own businesses, manage contracts and go over specific inspection points for towables and motorized RVs, he explained.
"Students just did not have enough time to engage with instructors or each other during a one-week class," said Jaros, who has been training inspectors side-by-side with his wife, Pam, since 2018. "Now Pam has an opportunity to review the students' inspections with the class to help strengthen everyone's review and reporting skills.
"RV inspections are vastly different from turning wrenches," he added. "Inspectors are more like consultants who guide buyers through various steps to evaluate the condition of an RV they're looking to buy. The final report is more than just an evaluation of what's good and bad about an RV, it also answers the big question, 'Is this RV safe to use?'"
Many NRVTA-trained inspectors also provide additional consulting services to RV buyers, such as elaborate and thorough walk-through training to use every component onboard the RV. They will even go over proper procedures to set up, break down and store an RV to ensure nothing gets broken or overlooked during the process, Jaros explained.
"There is no question that our inspectors are filling a much-needed niche in the RV industry by providing essential services often overlooked by the industry for many years," he added.
There are still a number of underserved markets in the United States where trained inspectors are needed, said Terry "Cooper" Cooper, NRVTA president.
"While some very large markets have a number of inspectors serving those areas, demand for services in some states has inspectors driving for hours just to meet clients," he explained.
"When inspections are done the right way, like we teach at NRVTA, performed under a code of ethics adopted by the National RV Inspectors Association and performed by trained, certified professionals, it is not uncommon for inspectors to make $1,200 a month in a part-time business," said Cooper. "Full-time inspectors who treat their businesses like a business can make considerably more than that."
For more information about NRVTA's inspection training, visit www.nrvta.com, email info@nrvta.com or call (903) 386-0444. For information about becoming a certified RV inspector with the National RV Inspectors Association, visit www.nrvia.com.