ATHENS, Texas – The National RV Training Academy (NRVTA) was used to film a video for Big Truck Big RV demonstrating the process to install an affordable Go Power solar system onto a fifth wheel RV.
The video was needed because too many RV owners have been told it would cost $25,000 for solar equipment, plus $10,000 in labor to equip an RV with enough solar to comfortably operate its onboard equipment, said "JD" the personality behind the Big Truck Big RV website. 
"The most commonly-quoted prices for solar installs are simply not realistic for most RV owners," he explained. "Etrailer reached out to me to do what we're calling the 'Everyman's solar install.'"
The package included three 570-watt solar panels, a 30-amp controller, 3,000-watt inverter and two 250-amp-hour batteries, said Eva Mitic, the Go Power marketing manager.
The total equipment cost was close to $6,000 at manufacturer's retail price and it required two days to install on location at the NRVTA training campus. The same system could be purchased through Go Power's dealer network.
"Someone with an RV valued between $40,000 and $50,000 could budget for this type of install," JD explained.
Go Power supplied the equipment and sent factory reps to Texas to oversee the installation which was completed by Chris Killeen, with A to Z RV Mobile Repair Services in Tucson, Ariz. He was a student completing an advanced solar class at NRVTA. Todd Henson, lead technical instructor at NRVTA, also supervised the install and offered guidance.
"A lot of solar installs focus on cosmetics and how the finished product looks on an RV," JD explained. "However, everything behind the panels would be a jumbled mess. We intentionally set up the install with serviceability in mind to ensure essential components and wiring could be easily accessed if a repair was needed."
JD said he shuffled a few things around after the install to position items in his RV where he wanted them to be, but he called the finished product a "very clean install."
Because the RV was already prewired for a solar connection on the roof, it took the team two days to install the equipment, Mitic explained.
"The biggest challenge was trying to find space in the RV where an inverter and charger could fit so that it could be serviced in the future," she added.
The system added 450 pounds of weight to the RV, which was considerably less than the 2,000 pounds typically recommended by solar installers, JD explained.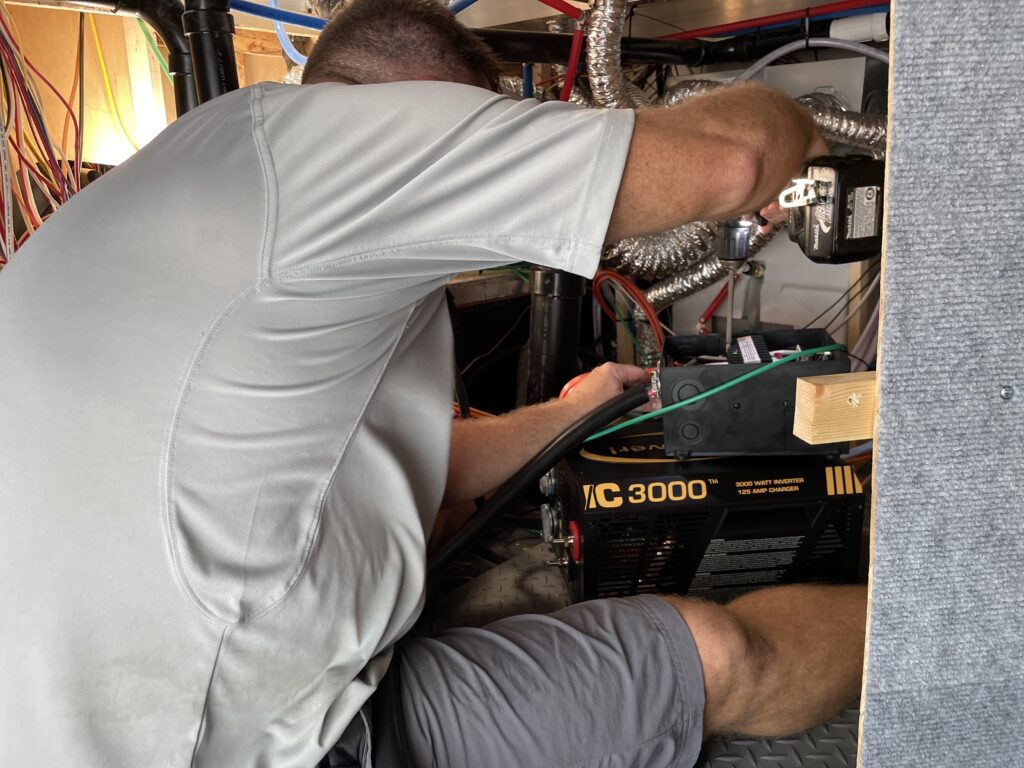 Once installed, the system could generate and store enough solar energy to operate a residential refrigerator for 12 to 15 hours or run a single air conditioner for four hours. That makes the solar system an ideal solution for RVers who like to boondock, he explained.
"My RV has a Cummins generator. With the solar system, they compliment each other beautifully," said JD. "The generator can run during the day while solar panels are charging the battery, which only takes about four hours."
Not only does the solar system reduce run cycles on the generator, it allows for a quieter evening by powering equipment like fans and lights from the battery at night, he added.
JD's RV originally came with a solar panel, separate battery and 1,000-watt inverter, which works as a backup power system.
"If I am powering my air conditioner from the two solar batteries and fall asleep, it would be possible to completely drain the battery," he explained. "However, because my original solar battery is isolated from the other two batteries, even if the solar system is drained, I can still operate lights and slideouts from the separate battery."
Go Power is celebrating its 25th anniversary in 2021. More than 1 million RV solar panels have been sold during that time, said Mitic.
"Go Power is famous for being a one-stop shop for everything needed to install solar equipment," she added. "We can provide 95% of equipment necessary to install a solar system, and the rest can be picked up at a local hardware store."
While she strongly recommends hiring a professional installer, Mitic said that some people have successfully installed systems by themselves.
"A solar panel producing 190 watts of power combined with a 200-amp-hour battery is enough power to operate slides, lights and fans," she explained. "It's enough power from one solar panel to offset the needs of a family of four for four days. Solar makes it an easier, quieter and less expensive way to camp."
Terry "Cooper" Cooper, president of NRVTA, said he was excited about the project and grateful his team and facility could take part in making it happen.
"Solar is becoming a very popular feature to install on RVs because it gives owners much more flexibility in where they can camp and how long they can stay unplugged from traditional power sources," he explained.
The popularity of solar prompted NRVTA to develop a weeklong advanced training course focused on solar systems and how to install, maintain or repair them. The first course took place in late 2020 with additional classes being offered every quarter.
"Our graduates who become mobile service technicians are finding solar to be a very lucrative add-on service to offer their customers," said Cooper. "With so many solar systems installed on RVs, the need for service by qualified technicians is becoming more important."
The two-part install video can be found on the Big Truck Big RV YouTube channel at www.youtube.com/watch?v=MyD_zcmPLOU and www.youtube.com/watch?v=MYc76lxWvb8.
For more information about Go Power solar systems, visit www.gpelectric.com. More information about NRVTA's advanced solar classes can be found at www.nrvta.com.
Information about A to Z Mobile RV Services can be found at www.atozmobilerv.com. To access training videos and resources produced by Big Truck Big RV, visit www.bigtruckbigRV.com.