ATHENS, Texas – The National RV Inspectors Association (NRVIA) today reported more than 10,000 people a month are performing searches on the group's website to locate inspectors in their area.
Search activity has consistently remained at that level through August and September, with some months recording more than 15,000 search requests, said Stephanie Henson, NRVIA director of administration.
"When we developed the search function on our website, we hoped it would be a way for inspectors to get an occasional referral from people needing an RV evaluated, but I think 10,000 searches a month is incredible," she explained. "Today, most RV buyers are finding an NRVIA Certified RV Inspector through the locator map. It's a testimony to the rising demand for inspection services as more people learn the service is available."
The popularity of RV inspections has given rise to untrained competitors offering the service as well, she warned.
"We're hearing reports of housing inspectors and even auto inspectors jumping on the bandwagon to evaluate RVs," said Henson. "However, we remind consumers that RVs are complicated pieces of equipment. They are an assembled collection of different components – each of which needs to be evaluated and tested to ensure it works properly.
"It is impossible to thoroughly review all those components and evaluate the life-safety issues of an RV in a 30- to 45-minute review," she added. "RV inspectors need specific training to know what to look for in an RV and how to document their findings in a thorough report."
The inspector locator can be found at www.nrvia.org/locate. Each pin represents a mobile NRVIA Certified RV Inspector ready to help RV buyers and those who need inspections for insurance companies, extended warranty providers and lending institutions.
Lucrative business opportunity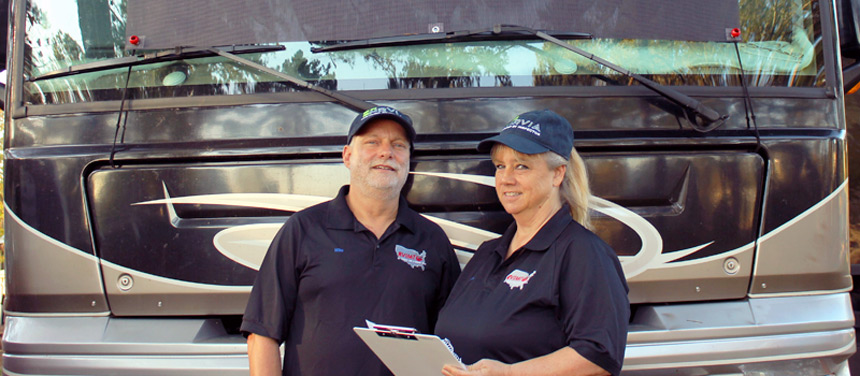 For people interested in starting a mobile-based business of their own, the locator also shows markets where RV inspectors are needed.
"As more people become aware of what an RV inspection can do to help them make informed decisions about purchasing an RV, demand for inspections continues to exceed the number of trained inspectors available to perform the evaluations," said Terry "Cooper" Cooper, NRVIA president.
"With more than 1,500 new RVs being built every day and 2,000 used RVs sold every day, the need for inspectors continues to be very high," he explained. "With proper training plus the right evaluation tools and software, people can start lucrative part- and full-time businesses inspecting RVs near them."
"With searches averaging 10,000 a month across the United States and some areas of Canada, RV buyers are eager to make sure their RV is in good condition before they decide to purchase," said Henson. "If someone is unable to find an inspector in their area, they can email a request to info@nrvia.org. By providing the location of the RV, its year, make and model, we can include the information in an alert broadcast to inspectors nearly every day to help clients connect with certified mobile inspectors passing through their area."
For more about getting an RV inspected, visit www.nrvia.org, email info@nrvia.org or call (855) 472-9948. There is information on that website about becoming a certified RV inspector; however, people can also find information about classes at the National RV Training Academy by visiting www.nrvta.com.